ASIT Antistatic Calcium Sulphate Raised Access Panel is made of high-strength calcium sulphate(calcium silicate or cement particle board)core. The top surface is stuck with High Pressure Laminate (HPL) or PVC or ceramic, the bottom is covered with aluminum foil or galvanized steel sheet. Four edges are sealed with black PVC edge trim.
Bertasman has researched the calcium sulphate for many years,the loading capacity of this floor from Bertasman is better than any other suppliers,and the purity of calcium sulphate in the panel more than 85% which has reached the international standard.
Calcium sulphate panel make the environment friendly plant's firbre as the reinforcement material,and then solidify the calcium sulphate crystals,and after the pulse pressing process done.has become the newest one of raised access floor,because the good furthers in environment friendly,fireproof,high loading capacity and flatness and so on.
1. Raised Floor Application
High-grade rooms, such as banks, telecommunication centers, smart offices and computer rooms. Areas of high humidity.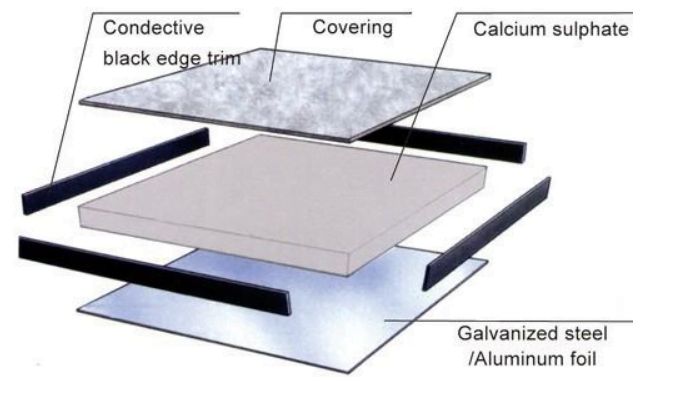 2. Raised Floor Structure:

1.panel- 30mm thickness calcium sulphate board ,PVC/ABS corvered four edges,steel/aluminium on the bottom plate ,wildly brand top tiles could be carpet ,HPL PVC ,ceramic stone , or other tiles as you like
2.Accessories -die casting steel structure pedestal plastic gasket on top ,height could be 70mm —1500mm , with or without square tube stringer steady connect the syste

3. Raised Floor Characteristics
Good loading capacity and conductivity
High dimension accuracy and good interchangeability
Good sealing and water-proof
Fire –proof , antisepsis and sound insulation
High dimension accuracy and environmental proof
4. Raised Floor Technical paramter
International
Size(mm)
Fire

Performance

Concentrated load
Impact load

(N)

Ultimated load

(N)

Uniform

Load

(N/m2)

Rolling load(N)
LB
N
KG
10 times
100000

times

FS800
600x600x30
A
≥800
≥3350
≥363
≥536
≥11250
≥16100
3560
2670
FS1000
600x600x30
A
≥1000
≥4550
≥450
≥670
≥13350
≥23000
4450
3560
FS1250
600x600x30
A
≥1250
≥5560
≥567
≥780
≥16680
≥33000
5560
4450
FS1500
600x600x30
A
≥1500
≥6675
≥670
≥1005
≥19892
≥34500
6675
5340
Thickness could be customised
Also called raised flooring, access flooringor elevated floor, antistatic floor is a construction model in which an elevated floor is built above a building's original concrete slab surface, thereby creating a hidden void between the two floors that is used for the passage of mechanical and electrical services.