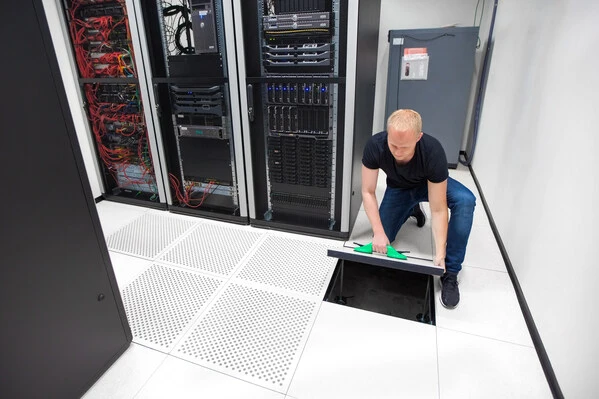 An enterprise must secure a flexible, adaptive cable management system in today's connected society, which necessitates a plethora of power, voice, and data equipment (which comes with a plethora of wires, cables, and connection points). In fact, it's critical if you want a workspace that's adaptable enough to accommodate moves, additions, and changes.
If you want to move to a new office, stay where you are but need renovations, or simply want the option to reconfigure your workplace whenever you want, a raised access floor cable distribution system will provide you with the ideal opportunity to set up your workspace as needed in the most efficient ways.
You may believe that all you need to do is rip out the old carpeting and replace it, but you have far more options.
For cable management, consider low-profile raised access flooring . It can completely transform your workspace and provide more functionality than you could ever imagine from a floor.
What is Raised Access Flooring?
There are different definitions but according to Wikipedia " A raised floor provides an elevated structural floor above a solid substrate to create a hidden void for the passage of mechanical and electrical services."
This type of floor, also known as raised access flooring, access floor(ing), or raised access computer floor(ing), is a construction model in which a slightly higher floor is built above the original concrete slab floor of the building, leaving an open space between the two floors for wiring, power, or cooling infrastructure.
Two things every business needs to plan for are the management of cables and air distribution. What are your requirements? What are your objectives?
Why Consider Raised Access Flooring?
There are many styles and solutions when it comes to raised access flooring. A new data management center, for example, may require a resolution with the maximum amount of space between the floors for cables, power, and airflow equipment, whereas an emergency operations center or courtroom may require a lower profile floor simply to meet its wire management requirements.
Movable and Adaptable: Because some raised access flooring is available in modular sections, you can add or remove flooring as needed. If you expand into a larger workspace, you may be able to keep your current flooring and only need to purchase the additional sections your larger space requires.
Improves safety within your office: Safety in the workplace is always a top priority. Raised access flooring hides these unsightly cables beneath the floor and out of sight, eliminating tripping hazards and the need to work on a ladder to reach wires in the ceiling.
Gives your office a cleaner, more professional look: Cables that run along the floor, up posts, or hang from the ceiling are unsightly. Your employees will struggle to work efficiently in a cluttered, disorganised work environment. Also, a messy office won't impress visiting clients. Raised access flooring conceals cables and promotes a clean, professional appearance to anyone who enters the office.
Allows for future growth: It appears that new technologies are being introduced on a daily basis. Because of the need to keep up with these innovations as well as business growth, you'll most likely require more networking cables at some point. A high-quality raised access flooring cable management system will provide a well-planned and configured solution, rather than a jumbled mess under the floor. Simply open the floor panels and install new cables as needed. You can quickly expand or update your operation without incurring costly renovation costs.
Assists you in investing in your own growth and professionalism: A raised access flooring system will be an important component if you intend to grow your business using cutting-edge technology. A clean, well-organized office with cutting-edge technology attracts and retains talented employees, and clients are always impressed.
Is cost-effective: Some raised access floor systems are NOT built into the structure. As a result, if you decide to relocate to another building, you can take the flooring with you. Furthermore, because non-attached flooring is classified as office equipment, the system can be depreciated on your tax returns.
What Types of Raised Access Flooring Are Available?
There are two types of raised access flooring:
Floors with standard/traditional access: any raised floor that is taller than 6 inches, but usually taller than 12 inches (can reach 6 feet or higher). Fifty years ago, when this product was new, the primary purpose of this type of flooring was air flow to support the cooling and airflow needs of large computer mainframes that ran exceptionally hot. The cabling between the two floors was an afterthought.
Low-profile access floors that are adaptable for cable management: any raised floor that is less than 6 inches high. Where airflow is not an issue, these floors allow for under-floor cable distribution management (which is true of most workplaces these days). There are low-profile options with 1.6-inch or 2.75-inch profiles that can outfit any space or even entire buildings.
The following are the characteristics of traditional raised access flooring:
Rugged and heavy duty
Designed primarily for cooling and airflow (not so much for cable management)
Access panels usually weigh 35+ pounds each and require a suction-like tool to lift them
Less flexible and less easy to use than lower profile raised access floors.
This can cause safety issues due to the height of the ground
Need to be serviced and maintained by contractors or highly-trained inside personnel
Low-profile raised access flooring, on the other hand:
System components are lightweight (but still meet strength requirements)
It requires less ceiling height.
Is simple for onsite personnel to maintain—and in some cases, no tools are required
Is it secure?
If you need to run a large chilled water line or forced air under your floor, you will almost certainly require traditional raised access flooring. However, if what you need is space and flexibility for electrical data and cables in an office space or a retail store, a low-profile raised access floor will fit the bill.
The following question is: how is this low-profile access flooring put together?